Week of July 31st-August 4th, 2017
New this week: Art by Katherine Johnson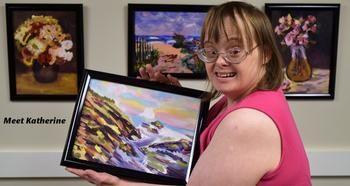 Photo from the United Arc's website
This week, we're putting a spotlight on our footage from Greenfield Savings Bank, "Art with Katherine Johnson 7/22/17." Katherine Johnson is a local painter and has a show coming up in Holyoke this September. The MCTV video, filmed and edited by Julian Lowenthal, features an interview of the artist and has information about her show this fall. You can learn more about Katherine Johnson at http://theunitedarc.org/katherine.shtml.
The video is available at https://vimeo.com/227760344. Here are some days when you can catch Katherine Johnson on TV:
Tuesday 8/1 at 7:38 AM. Friday 8/4 at 9:47 AM, Sunday 8/6 at 12:17 AM, and Monday 8/8 at 10:04 PM.
The next MCTV quarterly meeting, a meeting of the MCCI board, is Thursday, August 17th. There are currently seven vacant positions on the board. Interested in becoming a board member for Montague Community Cable, Inc. (MCCI)? Visit /n/135/MCTV-Looking-for-New-Board-Members to learn more and call 413-863-9200 to set up an appointment with a current board member!
At MCTV we connect community members to local happenings through local access programming. If there's something going on YOU think others would like to see, get in touch and we'll set you up with a camera to capture the moment. (413) 863-9200, infomontaguetv@gmail.com, or stop by 34 2nd Street in Turners between 10AM-4PM, Monday through Friday. We'd love to work with you.
Posted: to General News on Mon, Jul 31, 2017
Updated: Mon, Jul 31, 2017