Week of April 11-17 2022
The Great Flood of 1936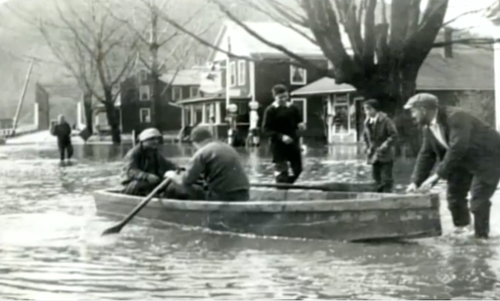 Learn about The Great Flood of 1936 in a recently uploaded video produced by UMass and Ed Klekowski in 2003. The film is well researched and uses incredible archival footage of the flood taking out bridges and flooding towns from Vernon through Springfield. Next up from the "Mud Season" line up is Love Crumbs, a folk-rock indie Americana group. And, of course, we have the most recent meetings from both the Gill and Montague Selectboards, and Finance Committee Meetings from both villages as well. GMRSD met on April 12th, and you can find the recording on the MCTV Vimeo page.
All community members are welcome to submit their videos to be aired on Channel 17, as well as featured on the MCTV Vimeo page. MCTV is always available to assist in local video production as well. Cameras, tripods, and lighting equipment are available for checkout, and filming and editing assistance can be provided. MCTV is still looking for board members, so if you would like to stop in for a meeting, even just to check the vibe, email infomontaguetv@gmail.com for a link to the Zoom! The next meeting is coming up on April 21st.

Something going on you think others would like to see? If you get in touch, we can show you how easy it is to use a camera and capture the moment.

Contact us at (413) 863-9200, infomontaguetv@gmail.com.
Posted: to General News on Mon, Apr 18, 2022
Updated: Mon, Apr 18, 2022