Week of April 11th-15th, 2016
New this Week: Dodge and Donuts & Carlos W. Anderson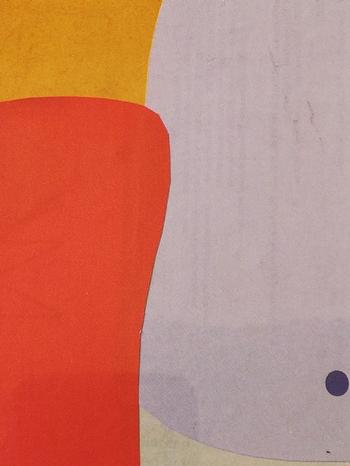 Looking for something to do this weekend? Enjoy the opening for artist Michael Sjostedt's show Minutiae at the Rendezvous (78 3rd St, Turners Falls, MA). The artwork in Minutiae (pictured here) is inspired by "functional design elements" - background colors, accents, flourishes--collected from catalogs, ads, brochures, mail stuffers, and posters/flyers at The Rendezvous. Opening to feature Casey Williams (DJ Just Joan).
MCTV Staff are working hard to provide you with local programming! Every week you can check out the live broadcast of local meetings including the Montague Selectboard meeting on Mondays at 7pm and the Finance Committee meeting on Wednesdays at 6pm. And don't forget to check out our archive of videos online, available for streaming and download at montaguetv.org.
Check out the following videos now available in the TV schedule:
Dodge and Donuts 4/2/16: Get to know Chief Dodge of the Montague Police Department as he shares food and ideas with local residents.
Carlos W. Anderson: Easter Sunday 3/27/16, filmed at Unity in the City, Brookline MA
Carlos: "The Resurection was a success" 4/3/16, filmed at Symphony Space Unity of New York
Something going on you think others would like to see? Get in touch and learn how easy it is to use a camera and capture the moment! (413) 863-9200, infomontaguetv@gmail.com, or stop by 34 2nd Street in Turners between 10 a.m. and 4 p.m. Monday through Friday. We'd love to work with you!
Posted: to General News on Mon, Mar 28, 2016
Updated: Sun, Apr 10, 2016