Week of May 30th-June 3rd, 2016
New this week: Unity Park Glider Dedication Ceremony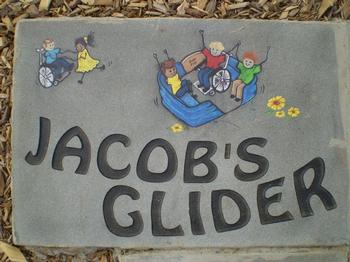 Stone work done by Jack Nelson and Eileen Dowd of Carriage House Designs of Turners Falls. Illustration by Billye Davis of Montague. (Photo from Montague Parks & Recreation)
Summer's in the air, and June is upon us. This month, don't forget to check out Thrones: an Artful Approach to the Toilet seat, an art exhibit open through June 25th at Nina's Nook, at 125A Avenue A in Turners Falls.
Now in our TV schedule and available online are replays of the May 24th Gill-Montague Regional School Committee meeting and the May 14th Unity Park Glider Dedication Ceremony. The Sway Fun Glider, recently installed at Unity Park, is a new accessible addition to the playground designed to accommodate wheelchair users and users of other mobility devices.
This week, due to memorial day, the Selectboard meeting will be held and aired live on MCTV on Tuesday, May 31st, at 7:00 PM. Agenda items this week will include an award for the Canal Street Public Parking lot construction bid as well as a discussion of staffing issues at the Water Pollution control Facility.
Something going on you think others would like to see? Get in touch to learn how easy it is to use a camera and capture the moment. (413) 863-9200, infomontaguetv@gmail.com, or stop by 34 2nd Street in Turners between 10 a.m. and 4 p.m. Monday through Friday. We'd love to work with you!
Posted: to General News on Thu, May 5, 2016
Updated: Mon, May 30, 2016