Week of July 18th-22nd, 2016
New this week: Music, Food, and Art, oh my!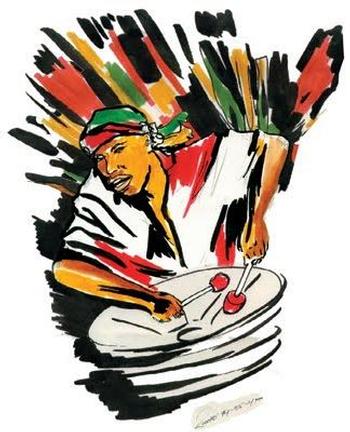 Panatic by Richie Richardson
Happy Monday, all, from Montague Community TV! This week, check out our new cultural programming at montaguetv.org or in the TV schedule. First, tune into the A Natural Concert Band's July 12th performance in Gill. Hosted by the A Natural Music School, this performance brings together 50+ professional musicians from the tristate area back to the location of their very first concert back in June 2014. See them perform Tempest, a new piece from the New England Conservatory's Derek Weagle (check out his website at risanaremusic.com).
Next, tune into the Caribbean Food & Culture segment hosted by Richie Richardson and Great Falls Harvest. Watch as restaurant goers enjoy the cuisine, prepared by chef and owner Chris Menegoni, with recipes selected by Richardson. In the second half of this episode, Richardson, a designer, gives viewers insight into his work displayed at the Harvest. You can find more of his art at richierichardson.blogspot.com.
Looking for more to do this week? See the art of Marjorie Morgan, Barbara Milot and Nina Rossi at the July 22nd opening of Cloud 9, showing this month at Nina's Nook (125A Avenue A, 5:00 PM).
Something going on you think others would like to see? Get in touch to learn how easy it is to use a camera and capture the moment. (413) 863-9200, infomontaguetv@gmail.com, or stop by 34 2nd Street in Turners between 10 a.m. and 4 p.m. Monday through Friday. We'd love to work with you!
Posted: to General News on Sun, Jul 10, 2016
Updated: Mon, Jul 18, 2016